What happened to this promising idea? (six years later)
In the Downtown Specific Plan (2011) residents proposed the creation of THREE integrated pedestrian-friendly, public spaces:
(a) a central plaza on Santa Cruz between Chestnut (north) and Crane (north)
(b) a paseo on Chestnut (south) that is integrated with Santa Cruz Avenue. A paseo is either a public place or path designed for walking, e.g., a promenade.
(c) a pocket park and a Chestnut street connector between Oak Grove and Santa Cruz
The Sunday farmer's market would be repositioned to straddle Chestnut, and vehicle access from Chestnut to adjacent parking lots would  be limited.
Specific Plan Descriptions
"The Santa Cruz Avenue Central Plaza provides a central public space on Santa Cruz Avenue between Chestnut Street and Crane Street. In this area, the street remains open to traf c but on-street parking is removed, providing for wider sidewalks. The street surface is raised to be ush with the sidewalks, and a uni ed pavement treatment from building to building across the street creates a seamless public space. On special occasions, this portion of Santa Cruz Avenue can be closed to traffic for events or festivals. (More Info)
"Extending the Santa Cruz Avenue Central Plaza experience south and closed to regular traffic, the Chestnut Street Paseo provides space for temporary vendors, such as jewelry or crafts sellers, benches, additional landscaping and a use surface for pedestrian comfort and great space functionality. The paseo works synergistically with the Farmer's Market, adjacent ground for retail and the market place, and it offers a unique environment away from motor vehicles. (More Info)
---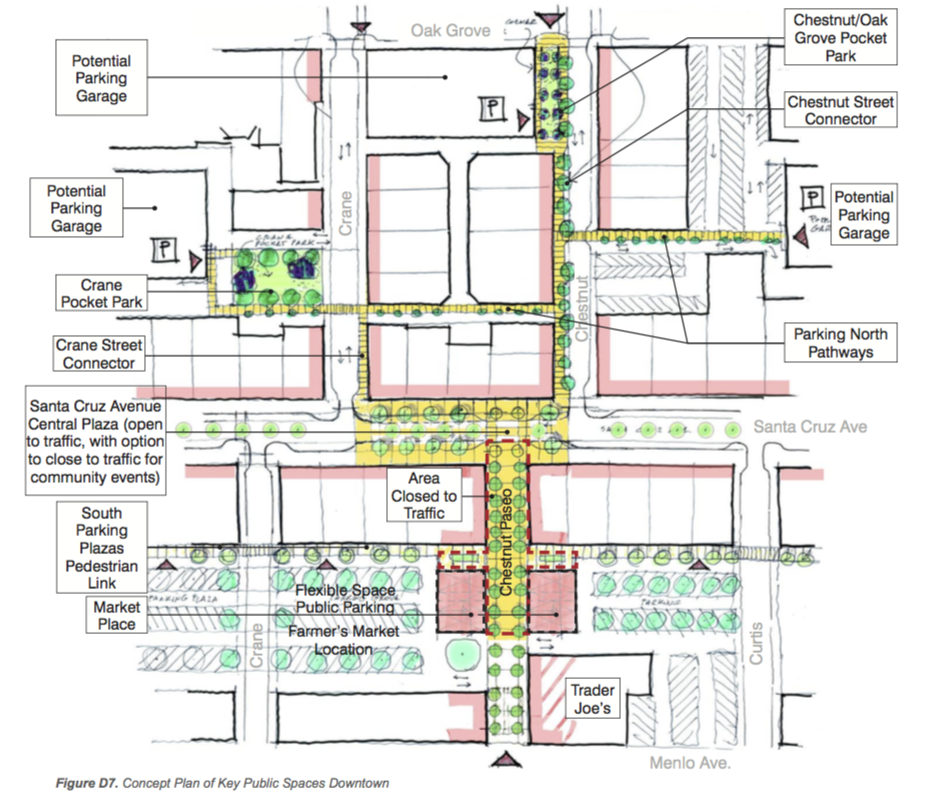 ---
Status
The City appears to have no budget, plan or schedule for these two projects and instead has conducted two short field trials of "minimalist" parklets, first on Chestnut (summer 2015) and then on Crane (2016). These parklets were NOT paseos and both have been disappointingly unattractive and lacking clear "purpose".  Unsurprisingly, residents have largely ignored the parklets.  Resident feedback has not been formally collected and  the future of a downtown parklet remains undefined.
2015 – Chestnut (south) between Santa Cruz and the parking lots was blocked with temporary barriers for a couple of summer months. Amenities included a green artificial carpet and a few tables and chairs. There was no protection from the sun.
2016 – The trial site was moved to Crane (south) for a couple on months. The design has not changed much and remains poorly conceived and implemented. In August a stand-up piano was added.