Results of City Survey On Curtis Street "Park" Now Available
Here is a summary of the results of the survey the City Council conducted in September 2017 to collect feedback on the Curtis Street "paseo". Residents would have benefited from having the survey results well before our Council terminated this experiment as the community feedback clearly shows that many residents believed other alternatives warranted consideration. This is important and surprising given their poor experience with the City's first effort.
While the answers to "yes or no" type questions are always useful, the comments submitted by the 475 participants provide valuable information on WHY they voted as they did and what might have satisfied them. Here are the highlights of what I learned. Interested residents can review the actual survey data and final report as it is now available on the Re-Imagine Menlo Park website at XXXXXX. A significant number of residents do want our city to create an attractive public space in the center downtown and not necessarily a miniature version of Fremont Park.
Survey Results
An overwhelming majority criticized the poor execution of the current installation – citing unattractiveness, trash, and the homeless as primary reasons.
62% want the current installation removed permanently.
39% want either a temporary or permanent installation, but only if major improvements were made.
The second most cited objection is that a very small downtown park is not needed because Menlo Park already has nearby Fremont Park.
Lost parking and poor traffic circulation were also cited but drew less criticism than the actual installation.
Poor sanitation was the least noted criticism.
What has happened to this popular idea – years later?
In the Downtown Specific Plan (2011) residents proposed the creation of THREE integrated pedestrian-friendly, public spaces:
(a) a central plaza on Santa Cruz between Chestnut (north) and Crane (north)
(b) a paseo on Chestnut (south) that is integrated with Santa Cruz Avenue. A paseo is either a public place or path designed for walking, e.g., a promenade.
(c) a pocket park and a Chestnut street connector between Oak Grove and Santa Cruz
The Sunday farmer's market would be repositioned to straddle Chestnut, and vehicle access from Chestnut to adjacent parking lots would  be limited.
Specific Plan Descriptions
"The Santa Cruz Avenue Central Plaza provides a central public space on Santa Cruz Avenue between Chestnut Street and Crane Street. In this area, the street remains open to traf c but on-street parking is removed, providing for wider sidewalks. The street surface is raised to be ush with the sidewalks, and a uni ed pavement treatment from building to building across the street creates a seamless public space. On special occasions, this portion of Santa Cruz Avenue can be closed to traffic for events or festivals. (More Info)
"Extending the Santa Cruz Avenue Central Plaza experience south and closed to regular traffic, the Chestnut Street Paseo provides space for temporary vendors, such as jewelry or crafts sellers, benches, additional landscaping and a use surface for pedestrian comfort and great space functionality. The paseo works synergistically with the Farmer's Market, adjacent ground for retail and the market place, and it offers a unique environment away from motor vehicles. (More Info)
---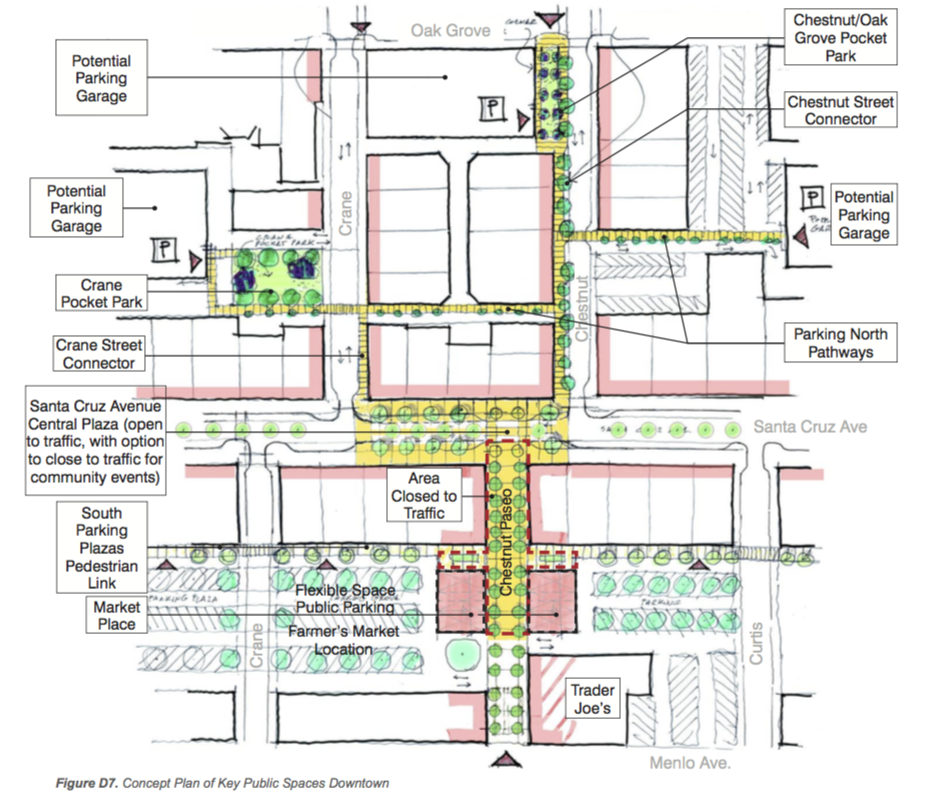 ---
Curtis Street Pocket Park Experiment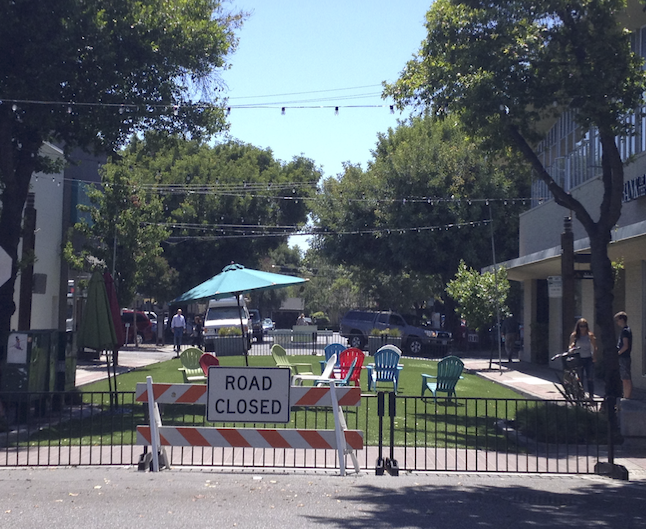 The City appears to have no budget, plan or schedule for these two projects and instead has conducted two short field trials of "minimalist"  pocket parks, first on Chestnut (summer 2015) and then on Crane (2016). These projects were NOT paseos and both have been disappointingly unattractive and lacking clear "purpose".  Unsurprisingly, residents have largely ignored the parklets.  Resident feedback was not systematically collected until September 2017
2015 – Chestnut (south) between Santa Cruz and the parking lots was blocked with temporary barriers for a couple of summer months. Amenities included a green artificial carpet and a few tables and chairs. There was no protection from the sun.
2016 – The trial site was moved to Crane (south) for a couple on months. The design has not changed much and remains poorly conceived and implemented. In August a stand-up piano was added.
2017 – The City Council abandoned its Curtis Street experiment. See my response in the my Almanac Guest Opinion.
---
Guest opinion: Curtis Street park trial failed; city needs to figure out why
by Dana Hendrickson (The Almanac – October 10, 2017)
In September the Menlo Park City Council abruptly terminated its three-year, downtown pocket park experiment after the temporary Curtis Street installation was soundly criticized by residents and nearby businesses. Our mayor concluded the field trial had successfully demonstrated the project was not viable, and the council unanimously voted to remove it.
I believe residents should question both this interpretation and the council decision to simply shut down this project without first thoughtfully evaluating what happened. Why did this experiment fail? Could failure have been avoided? Why did it take so long for the council to recognize and respond to strong community opposition? Would a different concept, design or approach for the project have been successful? Why wasn't one even considered?
What specific changes would improve the city planning process? The temporary pocket park was a big disappointment, and it consumed valuable public works department resources. Therefore, the City Council should learn important lessons from this experience and make appropriate changes to our city planning processes.
Good government serves the council, city staff, and our entire community; improves project outcomes; and reduces risks. But it requires a willingness to honestly and openly identify and examine missteps, mistakes and new opportunities. I hope this column spurs constructive community discussions about how to accelerate civic improvements in our downtown.
The failure of the temporary pocket park can be traced to the decision to implement it as an informal experiment rather a formal project. The planning and evaluation lacked all the ingredients needed for a successful field trial: clear direction from the City Council, well-defined objectives, success metrics, a professional designer, regular reviews, and effective public outreach. It was impossible for anyone to understand what was or was not happening and planned, why, and what was ahead. This left city staff ill-equipped to manage this "orphan," and residents could not get answers to the most basic questions about the status and future of the pocket park. Resident oversight likely would have helped, but the Parks and Recreation Commission apparently was not involved. Why?
Two recent surveys — one by the city and the other by me — revealed that residents rarely used the temporary pocket park because it was viewed as uninviting, unattractive, dirty and unsanitary. However, more than a third do support transforming either Curtis or another downtown location into an inviting public place that can be enjoyed whenever residents and visitors pass by, pass through, and use it. And they provided specific ideas as to what they wanted. This is surprisingly positive, given the poor quality of the pocket park experience.
One idea: the City Council should consider converting Curtis Street into a small public plaza like ones popular in Europe. These plazas are simple, inviting, practical, and affordable. They generally have attractively designed stone or tile surfaces, fixed metal or stone benches, either a sculpture or small water feature, ample shade, and attractive lighting.
Curtis Street is an excellent location as it connects two large parking lots to destinations on Santa Cruz Avenue. Several cafes and bakeries are nearby, so it is convenient for residents who want to enjoy a short lunch or beverage in a welcoming outside setting. And an attractive plaza would naturally complement the new street dining areas. A hard-surface plaza would also eliminate the potential health problems associated with the artificial turf used in the pocket park.
The Curtis Street project illustrates the poor quality of communications that too often occurs between the city, businesses and residents during the planning and execution stages of civic projects. No written official project and trial plans were available to read. There were no public reviews to discuss progress, answer questions, and solicit community feedback.
This spring the Chamber of Commerce and I proactively approached a council member with a written proposal to volunteer our help to get the project on a successful track, but found no interest in our offer. And during the past three years the city conducted only one resident survey — just a few weeks ago — and the council neither presented nor discussed the results. Why?
The failure of the small-scale Curtis Street pocket park raises many red flags about the future of the much larger civic projects proposed in the Downtown Specific Plan: a beautiful pedestrian-friendly boulevard (paseo), two connecting small parks, an integrated farmers' market and downtown parking structures. How likely is it the current City Council will want to undertake any of these more ambitious projects?
I am not optimistic.
So how can residents and businesses have an immediate positive impact? Tell our City Council members you want them to initiate a 60-day audit of the Curtis Street pocket park trial, and simultaneously develop a sound field trial plan for a Curtis Street plaza.
Anyone interested in actively supporting either or both these initiatives can send me a message at danahendrickson2009@gmail.com and we can discuss how to join forces.
Menlo Park resident Dana Hendrickson is an avid cyclist, active community volunteer, founder of the disabled veteran support nonprofit Rebuild Hope, and editor of Re-Imagine Menlo Park.