Latest News…September 15, 2016
Menlo Park: Council approves terms for Greenheart development
A project to build 420,000 square feet of residential, office and retail space on the large vacant lot along El Camino Real (between Glenwood and Oak Grove avenues) in Menlo Park cleared a major milestone on Tuesday, Sept. 13. The Menlo Park City Council unanimously approved the terms of an agreement between the city and the developer, Greenheart Land Co. Under terms of the agreement, the developer would be required to provide 14 below-market-rate housing units, pay $2.1 million in cash to a public amenity fund, guarantee $83,700 in sales tax payment per year, and build a dog park. The proposed development at 1300 El Camion Real is at a "public benefit bonus" level, which allows additional development in exchange for public benefits.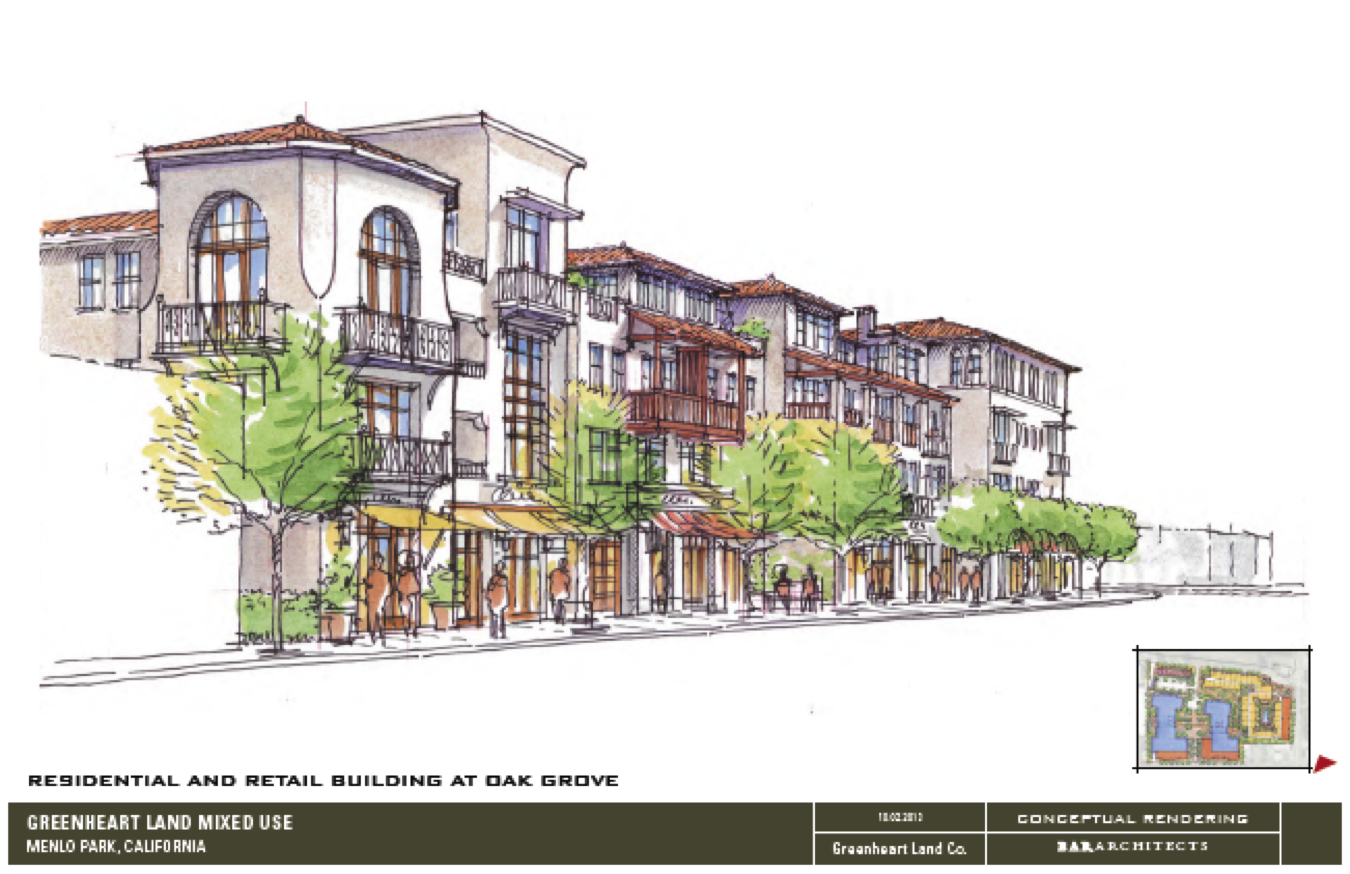 ---
The Greenheart Land Company is proposing to build office space, apartments and retail space on 1300 El Camino Real (formerly a Cadillac Dealership) and the Derry properties located on Oak Grove. The preliminary design for station 1300 shows public gathering spots: an office plaza off El Camino Real, a plaza near Oak Grove and Merrill Street; and a park bordering Harwood Way. Greenheart is targeting young professionals without families. Visit the station 1300 website for more information.
Additional Information
The proposed development is located on about 6.5 acres, has frontage on both Oak Grove and El Camino and is located about 350 feet from the Cal Train Station. The proposed uses and sizes are outlined below:
Residential — About 185 apartment units including studios, one and two bedroom units. There will be a small number of three bedroom units. The buildings will have four residential stories with a height that is less than the Specific Plan's limit of 48′. By way of comparison the existing condominium development (Menlo Square) across Oak Grove is 46 feet high. Projected number of residents: 480.
Office — About 205,000 SF in two 3-story buildings. By way of comparison, both office buildings on Ravenswood/El Camino are three stories and the Schwab Building at 800 El Camino is four stories. Projected number of workers: 627
Retail — Retail along Oak Grove at ground level is proposed to be a "market hall" style development with small local operators offering fresh produce, bakery items, coffee, cheeses, meats and seafood. The retail along the El Camino is proposed to include a marquis restaurant, a casual dining establishment as well as other pedestrian oriented retail uses. The retail space will total about 20,000 to 25,000 SF.
Parking — Located on two underground levels with a very small amount of surface parking for visitors. Parking will be in excess of the required parking outlined in the Specific Plan.
Open Space — The development provides an abundance of open space with a large courtyard between the office buildings; a public park on Garwood; a large Plaza on the corner of Garwood and Oak Grove, a common courtyard for the apartment community as well as private decks/balconies for each resident.
Other —Bike lanes along Oak Grove and a bike route on Garwood Way; onsite bike sharing and parking; a Zip Car location; EV Charging Stations, and Solar Photovoltaic panels on the office and the apartment buildings.
Traffic Impact – "Overall the proposed Greenheart project has a reduced level of impact on the transportation network than the uses originally assumed in the ECR/Downtown Specific Plan EIR." (Consultant Letter)
---
Status
Greenheart submitted a development proposal and Public Benefit application to the City level and has published a draft environmental impact report (EIR) under the El Camino/Downtown Specific Plan framework. An EIR was required because the Specific Plan EIR did not study this site as an opportunity site but rather included the approved Derry project and 1300 El Camino project that preceded station 1300.
City defined requirements for the Greenheart EIR (August 2014),
Received public input, developed a detailed (EIR Scope of Work , and approved a contract for the EIR. (September 2014)
Draft EIR published (February 17, 2016)
EIR Review period (February 18 to April 4, 2016)
Public Benefit Negotiations (July 19 to August 30, 2016)
Break Ground Target (Spring 2017)

Project completion and opening (expected mid-2019)
---
Architectural Drawings
Evoking the region's heritage and one of Menlo Park's most revered buildings, Allied Arts Guild building, Greenheart's proposed development is designed within the context of Spanish Eclectic architecture. This traditional architectural style has proved successful throughout the region in a variety of commercial and residential developments over the past 100+ years.