Palo Alto
Embarcadero project aims to give Bicyclists a smooth ride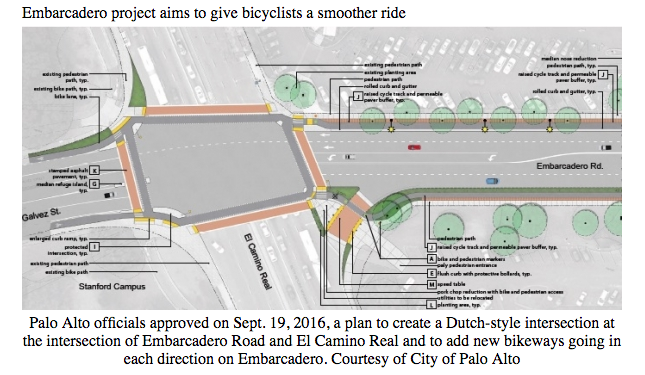 For Palo Alto's bicyclists and drivers, the bustling stretch of Embarcadero Road near El Camino Real isn't just a shared commuter artery. It's also a shared source of frustration.
The segment between El Camino and Emerson Street has three traffic lights virtually next to each other, a setup that for years has helped exacerbate the traffic jams in the area. Moving east from Stanford University, the two eastbound lanes of Embarcadero merge into one as the street dips under the Caltrain overpass, forcing bicyclists to either navigate through narrow and heavily congested lanes or to take the sidewalk.
Drivers chronically complain about the long wait times while bicyclists have been urging the city to improve conditions in this central corridor, which goes past Palo Alto High School and Town & Country Village.
On Monday night, the council signaled its intent to do just that when it approved a dramatic revamp for the intersection of Embarcadero and El Camino and to pursue a slew of bike improvements in the area.