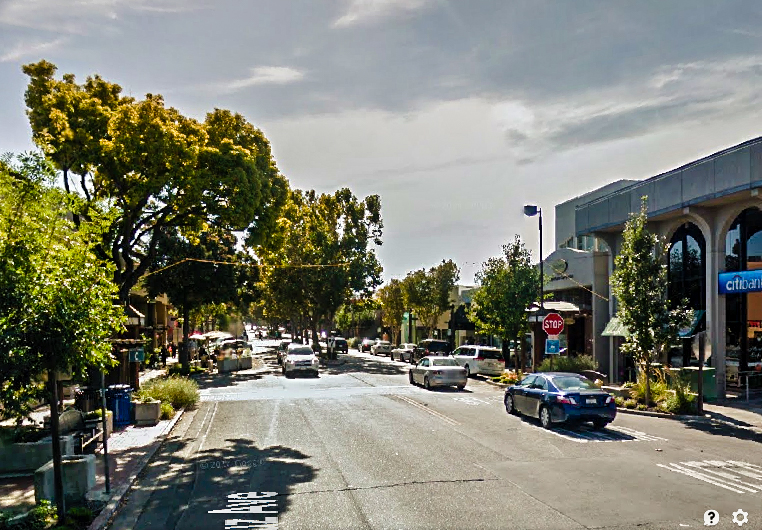 Menlo Park is largely a bedroom community with a great location, a healthy regional economy, beautiful residential neighborhoods, top-notch schools, first-rate city services and facilities and a progressive city council. However, its central business districts are second-rate given its affluence, changing demographics and excellent potential. Menlo Park has lagged neighboring cities, e.g., Palo Alto, Mountain View, Redwood City for three primary reasons. Menlo Park retailers and restaurants find it difficult to compete with similar businesses in nearby downtown Palo Alto and Redwood City, the Palo Alto Town & Country Shopping Plaza and the Stanford Shopping Center. There are too few young professionals living and working near Downtown Menlo Park and on El Camino Real. And a small but active minority of Menlo Park residents has created an environment that has discouraged new commercial developments especially on El Camino. Meanwhile, downtown Palo Alto, Mountain View, and the Stanford Shopping Center are vibrant centers of economic and social activity, and  Redwood City business districts are enjoying a dramatic resurgence fed by both private and public investments.
In 2013 Menlo Park successfully produces a fresh vision and Specific Plan for developing "Downtown" and El Camino in 2013; however,  little physical progress has been made because a small group of dissident residents soon launched a ballot initiative designed to limit two planned multi-use developments on El Camino and make it difficult to change their proposed amendments. While Measure M was soundly defeated in November 2014 the city's progress on implementing important ideas in the Specific Plan have stalled.
---
A Closer Look At What Exists Today.
View a descriptions, directories, street maps and photos for each of Menlo Parks three central business districts.
El Camino Real Business District
Santa Cruz Business District
Train Station Business District
This Report examines current economic conditions in Menlo Park in order to inform the General Plan and M-2 Zoning Update (also referred to as ConnectMenlo). Key findings are summarized first, followed by more detailed analysis of demographic, employment, economic, real estate, and fiscal trends for the City of Menlo Park that are compared to the region.
Key Demographics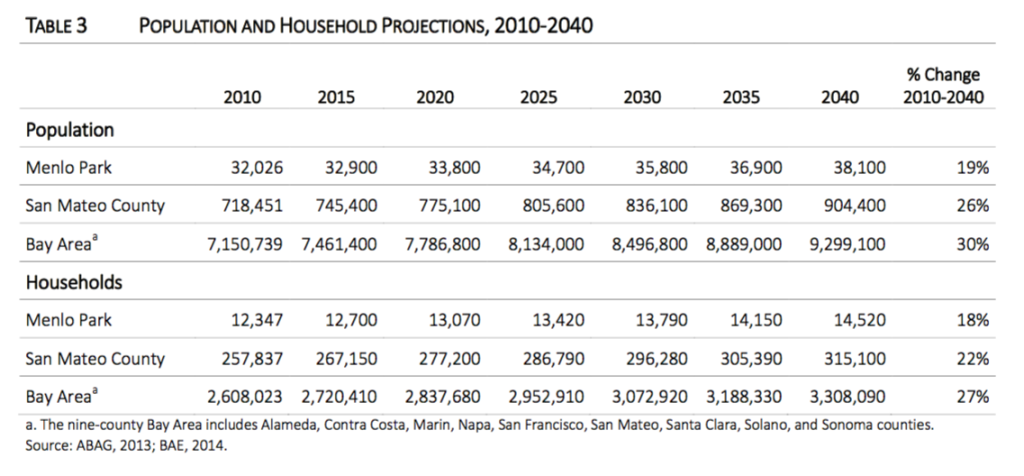 The City has 32,896 residents with an average of 2.6 persons per household.

Population

increase of 7 percent between 2000 and 2014, compared to a 9 percent increase in the Combined Counties and the larger Bay Area. Growth is marked by an increase in household size rather than an increase in the total number of households.
The number of single person

households

and households with two or more persons without children under 18 years of age decreased in Menlo Park between 2000 and 2010.
The

median age

of Menlo Park residents increased from 37.4 to 39.0, consistent with national and regional trends as the Baby Boomer generation ages. Larger increase in the share of population under 18, and a much slower increase in the share of population over 65.
The Median household income

in Menlo Park was approximately $109,200, which was 23 percent higher than the median in the Combined Counties ($88.714) and 43 percent higher than the median ($76,213) in the Bay Area that year. the median income in Belle Haven was $51,250, less than half of the citywide median.
Residents of Menlo Park have high levels of

educational attainment

nearly 68 percent of residents age 25 or older had a bachelor's degree or higher, compared to 46 percent of residents age 25 or older in the Combined Counties and 43 percent of Bay Area residents age 25 or older.
Educational services, healthcare, and social assistance industry

employ

28% of residents who work; professional, scientific, and business services account for 24%.
Most residents of Menlo Park

commute

elsewhere for work. Of the 30,885 jobs in Menlo Park, only 3,440 are held by Menlo Park residents. Menlo Park residents primarily travel to work in Palo Alto/Stanford (27 percent), Redwood City (8 percent), San Francisco (6 percent), or other locations within San Mateo and Santa Clara counties. Conversely, more than 27,000 workers who live in other cities commute to jobs in Menlo Park. Workers commute into Menlo Park from San Jose (10 percent), Redwood City (9 percent), San Francisco (8 percent), and other locations in San Mateo, Santa Clara, and Alameda counties. According to the Circulation Existing Conditions Report, approximately 79 percent of commuters pass through Menlo Park; these commuters do not work or live in Menlo Park, but use Menlo Park's road network daily. This cross-commute pattern is typical in most suburban environments and is a major cause of traffic congestion.
Economic Trends
Overall, the

major planned development projects

in Menlo Park and the additional development potential in the city under the current General Plan are projected to have a combined positive net fiscal impact of about $4.3 million on the City's annual General Fund.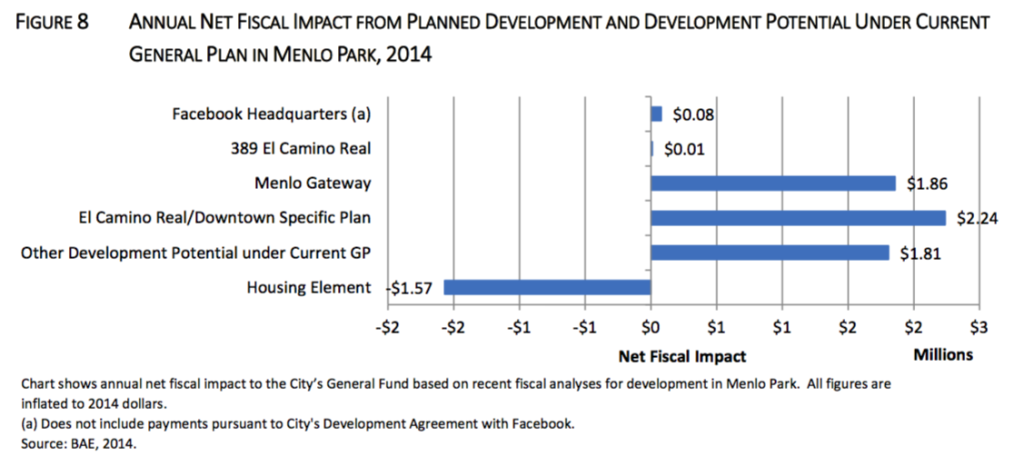 In addition to the City of Menlo Park, there are a number of

special districts

that provide services to the City that may experience fiscal impacts from new development due to increases in service costs as well as increases in revenue sources such as property taxes. The Menlo Park Fire Protection District, Sequoia Union High School District, Menlo Park City School District, and Las Lomitas School District are the special districts that are most likely to experience fiscal impacts from new development.
The Silicon Valley

real estate market

, including Menlo Park, is currently the strongest market in the US, with substantial development of new multi-family residential and office, as well as corporate campuses. This reflects the current boom in the Valley economy, which has had repeated boom and bust cycles over the past several decades. Menlo Park, along with Palo Alto and Mountain View, remain the most desirable locations. In Silicon Valley for high-tech companies, although the lack of available space and sites has pushed demand to other parts of Santa Clara and San Mateo County. Based on current levels of market demand for office/R&D space, there is greater demand than there are available sites in Menlo Park, even if the City were to allow more development than is envisioned in the current General Plan.
Menlo Park has seen extremely low levels of new unit

residential construction

since 2000, with permits issued for a total of only 219 units from January 2000 through July 2014,19 all of which were for single-family homes (both detached and attached units). During the same period, Palo Alto and Mountain View saw considerably more housing construction: Palo Alto permitted 2,304 units and Mountain View permitted 3,219 units (Figure 9).20 These cities also experienced considerable new multi-family residential development, with multi-family accounting for 38 percent of the units in Palo Alto and 57 percent of the units in Mountain View built during that time.
Menlo Park lies within one of the most expensive housing markets in the US, and

home prices

in the city are even higher than average for this high-cost region.
Menlo Park

residential rental market

is characterized by high rental rates; according to ACS data for the 2010 through 2012 period, the median gross rent in Menlo Park was approximately 12 percent higher than the median in the Combined Counties and 25 percent above the median in the Bay Area overall. Rental rates for new units in Menlo Park can be expected to be higher than current averages for Menlo Park, comparable to rents for new units in Redwood City or Mountain View.
Menlo Park has a strong

office market

consisting of approximately 6.1 million square feet of office space, 42 percent of which is located in the M-2 Area.The City's inventory of office space has shown steady growth over recent decades, increasing by 17 percent between 1997 (the earliest year for which data are available) and 2014 (Figure 13). However, the pace of growth in the city's office inventory during this period was considerably slower than office growth in Silicon Valley overall, which experienced a 41 percent increase in office square footage between 1997 and 2014.  As of the second quarter of 2014, Menlo Park office rental rates were almost twice as high as office rents in Silicon Valley overall, at $5.16 per square foot per month on a full-service basis.
Silicon Valley has a strong

hotel market

that primarily serves business travelers and out-of-town friends and relatives visiting area residents, with a more limited focus on tourism.There are currently seven hotels operating in Menlo Park, with a total of slightly more than 400 rooms. These hotels cover a broad range from small economy independents such as the Mermaid Inn to upscale hotels such as the Stanford Park Hotel and the Rosewood Sand Hill. Compared to Palo Alto and Mountain View, Menlo Park has a modest hotel room inventory; Palo Alto has approximately 1,800 hotel rooms and Mountain View has approximately 1,600 rooms.  Menlo Gateway project in the M-2 Area will add 373 new hotel rooms in the city and provide additional mid- to upper-range lodging options. A new small boutique hotel has been proposed on El Camino.
City Financials
(Excerpts from 2015-2016 Budget Report)
This budget, which represents a total citywide spending plan of $78.1 million, continues providing for core services while funding all of City Council's priority goals. The theme for this budget is "It's Time to Invest," as this budget represents the most ambitious spending plan that has been presented during my time here and underscores the need to invest in Menlo Park's short term to better position it for the long term.
Over the past several years as our local economy has been increasingly robust, surpluses in the General Fund have increased reserves to a level beyond City Council policy, but this has come at a cost, as we have struggled to keep-up with service-level demands related to development activity. This budget addresses this by aligning resources with service demand; however, in order to accomplish this, an investment is required. This investment comes in the form of spending that is expected to exceed revenues over the next three years, but as I will demonstrate later in this budget message, surpluses generated over the last two years are more than sufficient to cover the deficits created by the ambitious spending plan over the next three years.
The City's proposed $78.1 million spending plan continues to provide core services and fully funds the City Council's 2015 adopted goals. As proposed, it represents a $6 million increase from the adopted scal year 2014-15 budget. These increases are predominantly in the areas of personnel ($3 million), operating ($1.7 million), and projects ($1.6 million) and are slightly offset by reductions in other areas.
The General Fund is the primary funding source for the vast majority of core services and is also the funding source for many of City Council's goals. The overall proposed spending plan for the General Fund in fiscal year 2015-16 totals $49.3 million, which is a $2.8 million increase over the adopted fiscal year 2014-15 budget.
Priorities

Projections

As noted, this ambitious plan also comes at a cost, as the proposed budget for fiscal year 2015-16 and the first two years of the 10-year forecast each project an annual defcit. Similar to the reaction to the proposed additional headcount, I expect this to create some concern, as the proposition of intentionally spending more than we are bringing in, especially for three consecutive years, is not something Menlo Park is accustomed to doing. The problem with looking at the next three years in isolation is that it doesn't take into consideration the last two fiscal years, 2013-14 and 2014-15. In fiscal year 2013-14, the General Fund closed with a gross operating surplus of $5.6 million, and fiscal year 2014-15 is expected to close with a gross operating surplus of nearly $2.6 million. Factoring in the development revenues, in excess of expenditures, from those two years that are assigned for future services (and programmed into the fiscal year 2015-16 budget), the net surplus from those two fiscal years is enough to cover the proposed deficits for the next three years.
Revenue Sources
Five categories contribute the most revenue in 2015-2016.
Property tax: $16 million  = 33% of total revenue
Charges for services*: $8.2 million =17 %
Licenses and permits: $5.9 million
Sales tax: $5.2 million
Transient occupancy tax: $5.0 million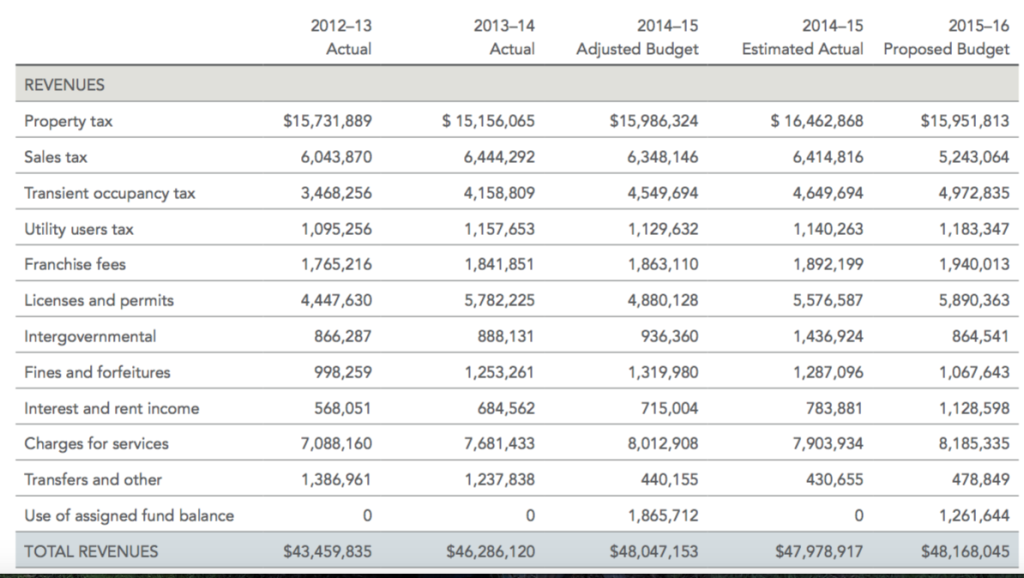 * largely fees related to Community Services programs and development-related charges)
Five-Year Capital Improvement Plan (2015-2016)

NOTE: View pages 133 thru 141 of the 2015-2016 City Budget for a breakdown of the above key assumptions.
Brighter Future In 2016-2020
The large vacant lots at 500 and 1300 El Camino Real will be transformed by attractive and vibrant developments that include housing, offices and retail.  Station 1300 will include 185 apartment units including studios, one and two bedroom units and Middle Plaza (500 ECR) will add another 215 rental units. Together

400 new housing units 

will bring young professionals and small families within

walking distance of downtown and El Camino businesses. These residents plus office workers and guests could provide a big economic boost to local retailer and consumer service providers.

Note: The addition of 400 new households represents a 3% increase in the total number in Menlo Park (12,700).
These developments, new Gateway Project near Marsh and 101 and commercial rezoning in West Menlo Park will create significant new revenue sources for the City starting in 2019.
Significant Challenges Remain
Little growth in general revenues during 2016-2019.
(Current projects : $4 to $4.5 million annual net positive impact starting in 2019)
The City lacks comprehensive transportation, parking and traffic management plans.
The City will remain a Peninsula laggard with regards to building modern bike network.
Community Character Report
This Community Character Report describes the physical form and characteristics that make each Menlo Park neighborhood and the M-2 Area unique, and provides an overview of when each area developed and the architectural styles that shaped it. City, regional, and State archives were assessed to gather historical information and understand the aesthetic and cultural themes throughout the city. The information in this report is available to inform Land Use Element policies intended to preserve the character of Menlo Park's residential neighborhoods, and to define desired types of potential change in non-residential areas. The descriptions in this report may be useful in crafting goals, poli- cies, and implementation programs related to urban design and neighborhood preservation. In addition, this report may also assist in the preparation of design standards for the M-2 Area Zoning Update.