Overview
Like other Peninsula cities Menlo Park is now developing a grade separation strategy for its major east-west vehicle corridors. Without separations motorists will experience unbearable traffic congestion when the number of daily trains grows significantly in the next 20 years. Our Council strongly dislikes both grade separation plans that have been studied. "Alternative A" would lower Ravenswood and keep the tracks roughly at current grade, and neither Oak Grove nor Glenwood would have grade separations. This likely would produce huge long-term traffic circulation problems on El Camino, Oak Grove, Glenwood and possibly Ravenswood. "Alternative C" requires Ravenswood, Oak Grove and Glenwood be lowered and tracks raised on an unattractive berm that is ten-feet high between Oak Grove and Ravenswood. This barrier would further physically divide Menlo Park neighborhoods, and the concurrent construction of three new grade separations would severely disrupt east-west and El Camino traffic for at least three years. The Council feels pressured to select one of these alternatives soon as it believes delays might jeopardize future government funding if other cities were to apply for assistance before Menlo Park.
Recommendation
View the grade separation challenge as wonderful opportunity to transform the area bounded by El Camino, Alma, Ravenswood and Oak Grove into a community-enriching commercial district, one that energizes our downtown. This central area is already changing rapidly. The BBC at 555 Santa Cruz Avenue was renovated in 2015. A three-story office building will be completed at 1020-1026 Alma in 2018, and Station 1300 will open in 2019. Also, a builder has proposed a multi-use development that replaces existing old buildings at 1125 Merrill Street, and 506 and 556 Santa Cruz Avenue.  These private investments should be complemented by a civic project that integrates them with a central pedestrian and bike-friendly public space that seamlessly connects destinations on both sides of the tracks. This project could include a large plaza, attractive landscaping, and the existing train station. A fully elevated and open rail structure between Oak Grove and Ravenswood would make this possible. And perhaps, the Caltrain parking could relocated underground and expanded to create even more public space on the surface. A fully elevated and open rail structure provides another important benefit. It would not create severe traffic disruptions during construction.
Plaza Area = Red Line             Train Tracks = Green        Fully Elevated Open Rail Structure = Orange     
New Developments (2015-2019) = Yellow Dotted Line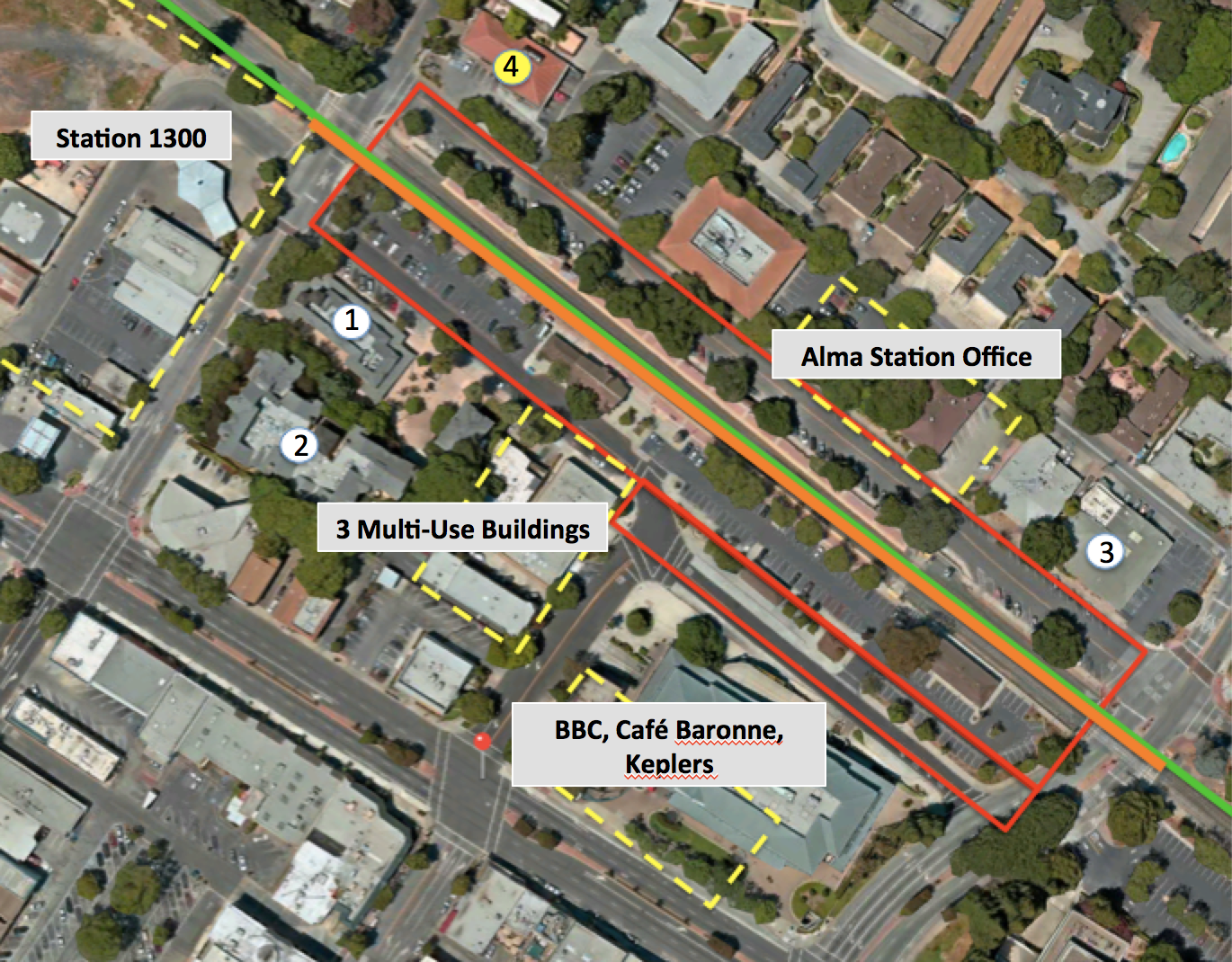 Existing Buildings:
1 => 1165 Merrill – Restaurant (formerly BFD)          2 => 1155 Merrill –  Menlo Square            3 => 1160 Alma – Axis        4 => 525 Oak Grove & 1170 Alma – 7 Eleven & J&J Hawaiian BBQ
Description
 New central plaza extends from Alma to Merrill and Oak Grove to Ravenswood.
Train tracks on a fully elevated open rail structure (FEORS) between Oak Grove and Ravenswood with wide openings between structure supports
Beautiful architectural design integrates plaza, FEORS, existing train station, landscaping and public amenities
Resurface Merrill and Alma with complementary surface materials
Ticket purchasing and seating located on elevated train platform
Public amenities: seating, fountain(s), trees, convenient access to train platform, rest rooms
Potential Options:
Expanded Caltrain parking relocated underground
Purchase land at 525 Oak Grove and 1170 Alma and convert to a park/plaza
Benefit Summary
Creates an attractive central plaza that connects the east and west sides of Menlo Park.
Bicyclist-friendly: enables riders to easily and safely.
(1) bypass the challenging Ravenswood-El Camino Intersection when traveling in an east-west direction.
(2) travel in dedicated bike lanes on Alma between Oak Grove and Ravenswood.
Less traffic disruption during construction than alternatives that require street(s) to be lowered.
Possibly less costly than lowering Glenwood, Oak Grove, and Ravenswood below grade