The Premier Dog Park On the Peninsula
It's About More Than Just Dogs.  It's About Building A Vibrant Community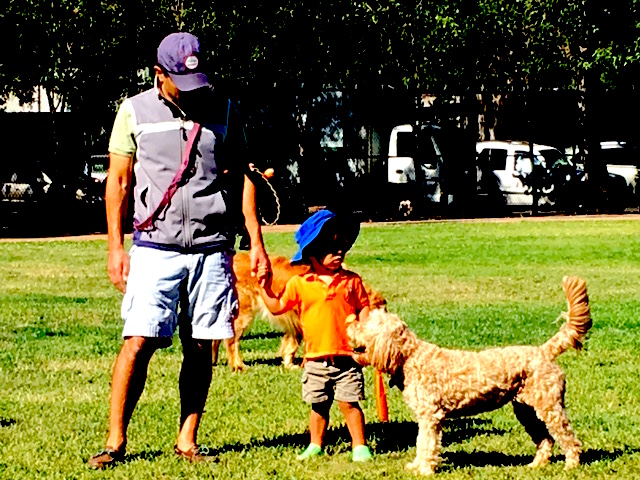 Bookmark this webpage.
(http://bit.ly/nealondp)
---
Highlights
Friendly dog owners
Fun-loving dogs
4+ acre open space
Totally enclosed grass field
Double-gated centerfield entrance
Fresh water spigot
Waste disposal
Convenient parking
Facts
The shared use of the Nealon Park playing field was approved by the City of Menlo Park 12 years ago after a trial period.
The dog park operates only between 8:00 to 10:00 am on weekdays (10 hours/week).
More than 70 dog owners use the park each week. This makes it the most popular City-supported, social activity that brings people together from all neighborhoods in Menlo Park.
Dog owners funded the installation of a center field gate, quarantine space and water source. (more than $5000)
No major problems have been reported to dog owners by the City.
Dog owners make a genuine effort to clean-up after their pets and for many years paid a service to follow-up each day. They are willing to again fund such a service.
The playing field is unused by sports activity at least 95% of a typical summer day and rarely used in the winter.
There is no evidence that usage by dogs and owners has a significant negative impact on the condition of the playing field. The age of the field and a poorly designed irrigation system contribute to its annual deterioration during the summer months.
Uncertain Future
"Talks about how to make a dog park work at Nealon Park have gone on for about 12 years now, according to remarks by Cherise Brandell, community services director; Todd Zeo, recreation supervisor; and Derek Schweigart, community services manager.
In 2004, it was decided that the baseball field at Nealon Park could be converted to a dog park for a couple of hours each weekday morning. Back then, Mayor Rich Cline was serving on the Parks and Recreation Commission.
Over the years, to maintain the field's cleanliness, it was watered for at least half an hour each day, city staff said. In the last few years, however, drought conditions, emergency water restrictions and a failing irrigation system on the field have taken hold, leaving the field in bad condition, they said.
Something needs to be done to fix the field, a project that has already been approved in this fiscal year's budget, said Ms. Brandell, and whether it is reseeded or converted to artificial turf will determine whether or not dogs will be allowed there."
"In the spring, she said, the city will pilot a program to temporarily move the dog park to a proposed location near Little House while the baseball field undergoes its annual six- to eight-week spring restoration, during which no dogs are allowed there. The actual renovation of the baseball field may not take place until fall 2017, she said, to avoid conflict with baseball season."
(The Almanac- May 27, 2016)
---
Letter To City Council
Date: June 21, 2016
To: Menlo Park Park City Council
From: Dana Hendrickson
Subject: The Nealon Playing Field Is STILL The Best Identified Option For A Dog Park
The existing morning dog park at the Nealon baseball field is a special community resource that is cherished by Menlo Park dog owners and envied by residents of other Peninsula cities because it provides so many important benefits to both dogs and dog owners. Therefore, Menlo Park residents are  understandably concerned about the potential loss of this "facility" and cannot imagine how the city could provide a comparable experience at another location. However,  we are open to helping the city find one IF a change cannot be avoided.
The purpose of this letter is five-fold:
describe the wonderful benefits the current dog park provides,
recommend improvements that could enhance the experience of both dog owners and other park users
explain how dog owner currently exercise their responsibilities towards the park and other users of the playing field,
request a clear written fact-based, justification for why the current dog usage is viewed as unacceptable by our City, and
offer our help to understand perceived problems and propose helpful solutions.
The PF dog park contributes to the well being of our dogs.
The large 4+ acres, pasture-like setting distinguishes it from typical "dog runs" and dog parks plus the location is convenient and parking plentiful.
The large space permits dozens of dogs to engage in a variety of concurrent activities: they can fetch, run and play with other dogs, and have areas for themselves if that's what a dog or owner prefer.
These activities improve the physical and mental fitness of our dogs and help socialize them with other dogs and people.
The PF dog park also contributes to the well being of dog owners.
We care a great deal for our dogs and want them to be well adjusted, happy and healthy as then they make better companions and interact better with other people and dogs.
The PF dog park is the single most successful place in Menlo Park for residents to develop new friends and socialize with existing ones. Most use
the park many times a week and we share a common interest in our dogs and support each other. This dog community is also very welcoming.
Each morning dog owners waik around the inside perimeter of the playing field, exercising while their dogs play.
Nealon Park location is convenient as is the adjacent parking.
While the existing PF dog park is wonderful, the City should make significant yet inexpensive improvements.
The limited hours of 8 to 10 am on weekdays (10 hours/week) constrains usage.
Signage would improve the experiences of all users of Nealon Park.
Examples:
– direct owners to enter thru the outfield gate rather than the dugouts
– park near the outfield not Little House
– encourage dogs to play only in the outfield, whenever possible
– make the operating hours much more visible to discourage off-time usage
In the past many dog owners voluntarily paid a professional cleaning service to clean up dog feces that were overlooked by dog owners. The City could easily pay for such a service to ensure its regular use and dog owners could share the cost.
Most dog owners do act responsibly.
Comply with existing rules and regulations and explain these to newcomers.
Proactively welcome newcomers and their dogs
Remind owners to control dog behavior and clean up after their dogs
Pick-up dog feces when a dog's owner cannot be identified.
The PF dog park was initially implemented after a series of sometimes contentious public hearings and approved only after significant concerns were addressed. On a typical weekday 40 to 50 dogs and owners share this wonderful community resource and more than 75 use it each week. After ten years we are unaware of any major problems that would cause the City to eliminate it. Please note that at the time the dog park was approved the City already recognized that the primary problem for the poor summer condition of the playing field was the poor irrigation system NOT dog usage. This fact can easily be confirmed today.
PF dog owners are currently organizing so we can more effectively work with the City and welcome the opportunities to share ideas as to how to we can make both the PF dog park and our collaboration more successful.
The PF dog park is a unique showcase for what the City can do to enhance the vitality of Menlo Park. We hope the City will help us make it a better experience for all users, not destroy it. That would be a major step backward.
Sincerely,
Dana Hendrickson
Editor & Publisher of Re-Imagine Menlo Park
---
Frequently Asked Questions:
Q1: Why do dog owners believe they need a large space for a dog park?
A1: One only has to spend time at the dog park to realize the need for lots of space as 40-50 dogs concurrently participate in a wide variety of activities both with their owners and other dogs.
Active dogs NEED to run a great deal and enjoy retrieving balls and frisbees usually thrown 50 to 75 feet from their owners. Imagine how dangerous and unpleasant it would be to encourage a  half dozen dogs to cross path in a small space while other dogs and owners enjoy activities in their midst.
Some dogs enjoy walking around the perimeter of the playing field. This is great exercise for them and owners who can easily monitor their pets. Very small dogs are great examples.
Many dogs enjoy chasing each other at high speeds and over great distances. Wippets, poodles, Australian shepherds and border collies are prime examples.
Some dogs simply enjoy watching others play and are content to stay at their owners sides.
Dog owners like to socialize with each other and share stories about their dogs, families, schools and city. They need sufficient space to move out of the hot sun and remain safe in the midst of a lot of very active dogs.
 Dog park usage has grown tremendously during the past 3 years and that trend will continue.
Q2: Why does Menlo Park need such a facility when other Peninsula communities only have smaller dog parks and dog runs?
A2: Being different should not be viewed as inherently bad. We should be proud of the what we have and how it operates.
Q3: Is it not unhealthy for players to share a field with dogs, albeit at different times?
A3: No one has provided factual evidence that people suffer illnesses by sharing a field with dogs.
Q4: Don't the dogs wear down the field?
A4: Sure, dogs have some impact but it is relatively small compared to the many more hours of usage of the field by hundreds of children, young adults, and adults. The City waters the field for 30 minutes after 10 AM to eliminate urine markings and watering is already needed to maintain a playing field during dry months. Also, the biggest negative contributors to field conditions are the age of the field and the poor design of the existing irrigation system.
Q5: Don't dog owners park near Little House and compete for parking spaces with seniors?
A5. No one has reported this as a big problem, dog owners encourage others to park near the outfield and the City could easily support this by placing signs outside the two dugouts that requested they enter the dog park thru the centerfield gate.
Q6: Don't barking dogs bother nearby tennis players and apartment dwellers?
A6: Sometimes this happens. We ask the few owners who have dogs that persistently bark to control the barking and move away from the tennis courts and warning track.
Q7: Doesn't the dog park interfere with sport activities?
A7: It's important to remember that recreational city land is a scarce resource and dog usage is only 10 hours a week and in the early morning. Also, other than in the summer baseball season the playing field is largely not used by anybody.
Good Dog Park Etiquette
ALL users of Nealon Park are blessed to have access to this wonderful shared community resource, and dog owners recognize their responsibility to ensure that their actions and dog's activities have minimal negative impact on other park users. To that end we encourage dog owners to…
Park near the outfield so spaces near Little House remain available to seniors and workers.
Enter the dog park via the center gate and

avoid dugouts

so dogs do not urinate in these areas.
Use of the dog park depends on everyone's ability to control their

own

dog.  Discourage and stop your dog's unreasonable behavior re: other dogs and people.
Persistent loud barking irritates neighbors, other Nealon Park users, and other dog owners. Move away from the tennis courts whenever dog bark levels likely annoy tennis players.
Carry two dog waste bags and if the owner of a dog cannot be identified remove the waste promptly and expect others to do the same.
Keep dogs on leash whenever they are outside  the playing field and gated "quarantine area".
Final Safety Note: Active dog play can endanger toddlers and very young children as dogs run fast and in unpredictable directions. It is dangerous to allow kids to walk inside the dog park at anytime.